My first line in this post needs to be that I myself have never taken collagen in any form. I have thought about it, looked at products containing it, but haven't had any personal experience with it.
Definition: collagen is the most abundant protein in the human body found in skin, bones, tendons, muscles. It is the substance that holds the body together. Collagen forms a scaffold to provide strength and structure.

Medical News Today
Like all the posts in this series, I am going to start with the basics and go from there. Collagen is currently one of the biggest trends in the beauty and wellness world. It is everywhere, and comes in many forms but all of this begs the question: what does it do and does it actually work? It's important to know the difference between Endogenous collagen and Exogenous collagen. Put simply, Endogenous is what our body makes naturally, and Exogenous is synthetic which can come from an external source like those 'Vital Proteins' everyone's buying. How does this relate to our skin? Well, collagen gives our skin elasticity (like a rubber band), and strength. It's no surprise that like so many other things, our bodies produce less collagen naturally as we age and things like sun worshipping and smoking only make it worse. Wrinkles begin to show their ugly faces, our skin becomes weaker, and the cartilage in our joints weakens. Both directly the result of less collagen production in our bodies. Ladies, one more reason to dread menopause. If you prefer visuals over my ramblings, here ya go: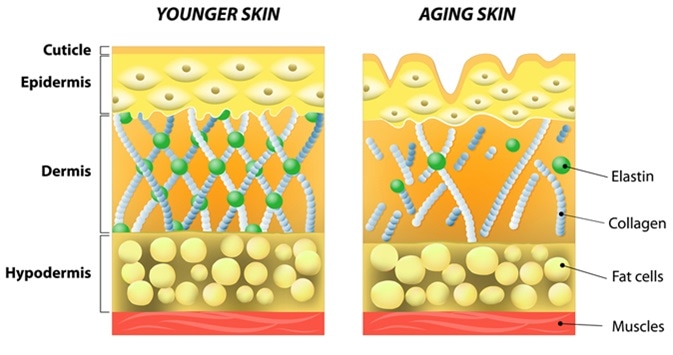 Make no mistake, collagen does a lot of great things for our bodies beyond keeping our skin firm and plumped. But for the sake of this post, we're focusing primarily on skin and beauty products. I did answer some questions on whether or not works on my Instagram stories but this is such a hot topic and there is so much misinformation out there. It's also worth mentioning that all of the information included here, unless otherwise stated, comes from the medical community, not a product or brand. I'll re-state one of the key points I made on my Instagram stories:
Many products containing collagen, including creams, claim to revitalize the skin by increasing collagen levels within the body. Collagen molecules are too large to be absorbed into the skin and any benefit you may see if at all, is likely due to the moisturizing properties of the product, they will not directly increase collagen. Also critical to note is that skincare products don't qualify/classify as drugs and therefore require no scientific proof of their claims!
Skincare products can, however, protect the collagen that you do currently have. The best way to help your body produce more collagen is by ingesting it in the form of a good diet or supplements. The fastest, but certainly not the cheapest way to get collagen back is to get fillers which can be injected deep enough into the skin (unlike the creams) to repair wrinkles and depressions in the skin. So, what is the deal…why is collagen so dang popular if the skincare stuff is a fail? Well, there is research that suggests the powder, pill, and other ingested supplements may actually have some benefits. When used over several months' time, that is. And be prepared for a lifetime commitment, because while taking the supplements may help, they will not change the fact that your body is not producing what you are supplementing it with on its own. So if you see benefits, in order to keep seeing them, you must continue taking the supplements. Lightbulb!
So why & how do these powders and pills work when the creams don't? Because the supplement forms contain collagen peptides (aka hydrolyzed collagen), which are made of the same amino acids as collagen, but are easier for our bodies to absorb. That's the key, and also why the topical stuff won't get the job done. The shorter chains of these amino acids are able to absorb into our bloodstream and can potentially be carried to the target organs that need them. (Note: there may be research that supports collagen works, but it's mostly funded by the companies selling these products. Dermatologists insist that while there may be truth to the claims, much more research is still needed). Be a smart consumer, read product labels! Remember that just because you are ingesting collagen, and it is being absorbed, does not mean it all ends up in your skin.
You know what collagen is in human bodies, but where does the collagen in all these supplements come from?! Do you really want to know….collagen comes mostly from animal sources, such as beef or fish, sometimes even pigs. And the best source of collagen in animals is the exact same as it is in humans; the bones and the skin. You might be mad at me for putting that in here, but it's important you know what you're getting yourself into and what you're putting into your body. Does it come as any surprise that in China, for centuries women would eat things like pigs feet and shark fins to help their skin & joints? That's a whole lot of sarcasm, I couldn't help myself.
Make no mistake, no matter what brand or product labels claim: collagen can only come from animals.
Dermatologists also warn against products marketed as "plant-based collagen." They don't actually contain collagen, and though they say they support collagen production, the science is not there to back it up. Marketing 101. There are many supplements on the market claiming to be a source of vegan or "plant-based collagen". That is where the confusion lies. These supplements aren't providing a source of collagen. Instead, they are providing nutrients that support your body's natural collagen production. They are a collagen-production booster, rather than a collagen supplement. Gimmick-y AF!
Bottom line: if you are going to spend your hard earned money (or stimulus check) on something, especially something you eat or drink…please be smart about it!